Discover more from 👂🏻sounds like,
David McFarlane's newsletter music + tech + art etc.
👂🏻sounds like: gigs, nature, Podcasts, podcasts, binary, samples, 🚨musicology hotline🚨
what's bigger, silence or an orchestra?
Hello again valued and beloved reader, welcome back to👂🏻sounds like after a brief Summer break.
Perhaps my biggest news is that I've figured out how to put a table of contents in these newsletters, so you can click around this newsletter in any order you want, like a delicious buffet, or a choose-your-own adventure book, or a library stuffed with books which, judging by their cover, appear to be an incredible read.
Today's Adventure…
---
📆 Upcoming Events
Solo
I'll be playing all my floatiest electric guitar, mandolin and big massive pedalboard sounds at Brume Ambient Sunday on Sunday 3rd September at The Carlton Club:
Come get ambient!
Oh Hippo
I'm in the lovely band above Oh Hippo, and we have some gigs coming up as modelled here by our favourite cat Orlando:
Due to my lack of newsletter discipline I'm sending this out after the first two gigs have already happened, but we'd love to see you at:
Pierre Flasse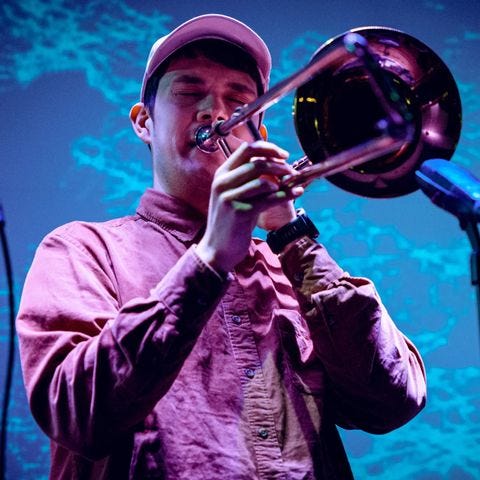 Pierre writes beautiful jazz which I talked about all the way back in Newsletter #1, and I am so pleased that he's releasing some recordings of it for the world to hear soon. We'll be playing all of it on the 11th October to celebrate the release, in a not-quite-confirmed-yet location in Manchester.
He's also started his own newsletter, so head over there for more info.
---
🏞 Hebden Bridge Art Festival
Last time I emailed out it was an invitation to Hebden Bridge's Open Space 70 festival:
Here's a little walkthrough of what the installation looked like in the end, and some of the other pieces from Open Space 70 in the same exhibition space:
You can see and hear all the individual pieces the students from Rastrick High School made with me here, and watch the whole 11-minute loop of them all projected in sequence here.
Big thanks to Amazing Max Stuff for some handy projection mapping tips and Hackspace Manchester for use of their laser cutter.
---
📝 Quickfire Reviews from part of June + July + part of August
god it's been ages since I sent one of these out, I'll just give you the highlights
🎷Caitlin LM: I saw Caitlin play at MIF and she was bloody great, that just wasn't enough so I saw her at the Old Abbey Taphouse and she was even better, go find her on Spotify here:

🖼 Donnie O'Donnell at Village Books Manchester: stumbled on this exhibition while wandering around the Northern Quarter, really lovely pixel-artish pictures:

Donnie O'Donnell on Instagram: "This will be the last weekend to check out my exhibition '72 Birds, 15 Cows, 12

Horses and a Fish' at

@villagebooks.co

in Manchester. Here are 12 Ducks, 2 Birds and a Fish taken from the show. If you are interested in purchasing any of the works from the show you can request a catalogue via email from hello

@villagebooks.co

"

🎭 Find Your Eyes: Unbelievably good show as part of MIF, I have never seen live photography used as part of theatre before, PLEASE go see this if it's ever on again

🎥 Barbie: Very good, however the only scientifically accurate depiction of gender is Leo Fox's Boy Island currently being slowly released on his Instagram

🎥 Oppenheimer: When the New Mexico test was about to happen, I really did get that tense feeling off 'ooh are they going to pull this off!!!' (I won't tell you if they did, this is a spoiler-free zone)

📺 Watchmen (the TV series): Really very very good sequel to the comic, contained roughly three more full frontal penises than I expected (Dr. Manhattan's is a given)

📺 The Bear: First series was very good, second series has some BEAUTIFUL things to say around belief/learning/committing to something in a sort of Ted Lasso-but-takes-itself-more-seriously sort of way, and the most effective use of a Taylor Swift song in a soundtrack I've come across

📺 Barry: An assassin tries to be an actor instead! Bloody hell! It's very funny and then it gets very very dark by season 4!
See also: excellent black comedy series Patriot about a spy who wants to be a singer-songwriter

🕹 Pikmin 4: A perfect installment of one of my fave games

🎸 Podcasts (band): Oh Hippo supported these last week and I have been going round singing popcorn headache, fruit juice headache, football headache, alcohol headache, youtube headache ever since and getting them all in the wrong order

🎧 Podcasts (audio or video file series that can be streamed or downloaded from the internet, often featuring conversations, interviews, or storytelling on a variety of topics): have you heard of these?! They're great!
Speaking of which,
---
☎️🚨Musicology Hotline
Edition #1
🚨SIRENS, BLARING, ALARMS, THE FAMILIAR CALL OF MY LONG-SUFFERING BUTLER🚨
what is it, Alfred
🗣SIR, THE MUSICOLOGY-SIGNAL HAS BEEN LIT, SOMEONE HAS A QUESTION ABOUT MUSIC🗣
I throw the covers from my ornate four-poster bed, jump directly onto the fireman's pole that takes me from my bedroom to the Music Cave beneath my Gothic mansion, land with the reflexes of a beautiful cat at the bottom, and lift the handset of my huge phone shaped like a treble clef to my ear with a tense but unwavering hand to hear this question from Eden Bailey:
hi Dave, I have a question about downloading audio

there are some things I would only do when I'm connected to Wi-Fi, because I don't want to use loads of mobile data

e.g. I wouldn't download music, but I would download a podcast, because it feels like there's less going on and it would be less data

Is this true?
This is exactly the kind of question I have been preparing for ever since I fell into a well full of bassoons as a small child, leading to a lifelong terror of/fascination with the auditory world which has never left me, and was only worsened by the tragic death of my parents in a dark alley at the hands of an acoustic hip-hop cover band
What takes up more space? An orchestra or a podcast?
It's time to journey deep into the mysteries of sound to find out
Sound is more or less wobbly air–particles moving forwards and backwards. You can visualise this using a slinky.
Sound travels through the air in exactly the same way a vibration will travel through a slinky, wobbling forwards and backwards. When the vibrations reach our ears, they are measured and decoded by our brains, and we understand them as sounds.
Speakers make this air wobbling happen by pushing the air forward, and then pulling it backwards. Microphones do the opposite–they let themselves get wobbled by the air, and measure how much it wobbles.
How fast the air is moving forwards and backwards over time like can be drawn this:
Each time a microphone takes a measurement, this is called a sample. If you've ever used audio recording software, you might have noticed one of the settings you can change is called the sample rate, which is normally a massive number like 44100, or 48000, or at the very high end, 192000
The sample rate is how many times a second a measurement is made. So a sample rate of 44100 times a second (which you can also write as 44.1khz) means a measurement is being made 44100 times every single second.
If each sample is drawn as a blue line, a fast sample rate might look like this:
And a slow sample rate might look like this:
For each blue line, the computer takes a measurement, and stores it as a number, which represents how far the air has travelled backwards or forwards.
Computers store this sample in the same way computers store a lot of things – a string of zeros and ones, also known as binary code.
0101111111110010001111111111010000001101100101001011111110010001111110 
1000000110111001010111111100101000101011100101001011111111111001000110 
0000000000000000001000000110110000010100000000000000000000000000000000 
0000000101001011111111111001000111111101000000110110010100101111110010 
0011111101000000110110010101110010100000000000000000000010100000000000 
0000000000000000101001011111111111001000110000000000000000000100000011 
011000001010 
Each 0 or 1 is called a bit. The more bits you have, the more space the number will take up on a computer.
Just like you can choose how many times per second a measurement is made when you're recording, you can also choose how many 0s or 1s are used to store each sample. This is called the bit depth.
Every number that's added doubles how detailed your measurement can be. That's because if you have one bit, there are only two possibilities for what the number can be–either:
0
or
1
But most professional recordings have a bit depth of 24, which means the number can be this long:
110101101001010110111000
There are 16,777,216 different ways to put 1s and 0s in a string of 24 numbers. This means there are 16,777,216 options for how to store a sample!
Spotify streams music at 16 bits, so each sample might look like this (65,536 different options):
0111010010101011
A lot of old games consoles only had the memory to make their music 8 bit, so each sample might look like this (256 options):
11000010
The reason 8-bit music sounds how it does is because 256 options for how detailed each sample can be isn't a lot compared to the 16,777,216 we're used to hearing nowadays (although lots of people still make music using sounds like this, like chiptune music).
How much space an audio file takes up depends on both how big the bit is (bit depth) and how many bits are moving per second (sample rate), and if you multiply those together, you can get a measure of how much sound info is moving every second. This is called the bit rate.
But no matter what the bit depth, sample rate, and bit rate of a sound is, the loudest sound that can be recorded is always going to be stored as string of 1s
8 bit: 11111111
16 bit: 1111111111111111
24 bit: 111111111111111111111111
And the quietest sound that can be recorded is always going to stored as a string of 0s
8 bit: 00000000
16 bit: 0000000000000000
24 bit: 000000000000000000000000
And those two numbers will always use exactly the same number of bits, and take up exactly the same number of space on a computer.
So actually, if they're recorded with the same settings, silence is exactly the same size as an orchestra, or white noise, or a podcast, or a voice note.
however
Different levels of detail might be better for different types of audio. If you're listening to some really complicated or detailed music, you might want a higher recording quality. If you're listening to a podcast you can probably make out what everyone's saying pretty easily at a lower recording quality.
My work here is done, Gotham is once again safe from the scourge of ignorance.
If you've got a burning question for Musicology Hotline, please send it over! Just reply to this email. Okay see you soon byyyyyyyye
---
to conquer music, you must become music. To receive my newsletter on a semi-regular basis whenever I send it out, you must subscribe to my newsletter